Dave Ratner's Martial Arts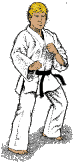 Dave Ratner has been studying martial arts of some form or another since 1987.
Shito Ryu

His first style was Shito Ryu, a traditional Okinawan karate style, which he studied while attending Cornell University from 1987-1991. The dojo was run by Sensei Ed Ferraro and operated under the supervision of Robert Coryer and North American Shito Ryu Karate (NASK), until Sensei Ferraro split from NASK in 1990. Dave was a student instructor from 1990-1991, and obtained the rank of brown belt. He also learned Okinawan Bo (staff).

Tae Kwon Do

When Dave moved to Los Angeles to attend graduate school in 1991, he joined the UCLA Tae Kwon Do club, where he was a member from 1991-1992. However, Dave did not really enjoy TKD as a style per se. Dave obtained the rank of blue belt.

American Freestyle Karate

Dave left the TKD club in 1992 for a small dojo in West Los Angeles called American Freestyle Karate, run by the former international kickboxing and full-contact karate champion Master Greg Wilkinson. Wilkinson trained under both Fred Wren and Joe Lewis. It was here that Dave really felt he learned how to spar, fight, and move. Dave obtained the rank of black belt. In addition to learning karate and kickboxing from Master Wilkinson, Dave also studied some Jiu-Jitsu under Steve Hershkowitz at the same studio.

Here is a picture of Dave, Master Wilkinson, and Grandmaster Joe Lewis.

Arnis and Modern Mano Mano

Simultaneous with the studying of the American Freestyle Karate, Dave began studying Arnis and Modern Mano Mano with Terry Keller in 1993. Terry Keller was a student of Grandmaster Ernesto Presas and Remi Presas, although he teaches more the Ernesto style. It was here that Dave learned an appreciation for the short stick and knife. He obtained the rank of brown belt before Mr. Keller relocated to Texas.

Here is a picture of Dave and Grandmaster Ernesto Presas after a seminar in Los Angeles.

Gracie Jiu-Jitsu

Dave started studying Jiu-Jitsu with the UCLA club early in 1995, and has been studying with Carlson Gracie and his son, Viktor Gracie Belfort, since June of 1995. He absolutely loves Gracie Jiu-Jitsu, and is currently a blue belt. For more information on Carlson, check out the Carlson Gracie Jiu-Jitsu home page.
For more martial arts information, check out the newsgroup rec.martial-arts on Usenet news. Also be sure to check out the various martial arts pictures available by ftp from cs.huji.ac.il.
I am available for private self-defense lessons. Flexible schedule/rates. Contact me if you are interested.
---
ratner@cs.ucla.edu Last modified: Wed May 1 11:14:28 1996